Negeen Papehn released "Forbidden by Faith," her debut novel, in February of 2018.

Sara knows her life would be easier if she married a man of her faith, but when has love ever been easy?Raised by her immigrant Iranian parents, Sara has been taught that a good daughter makes decisions based on her family's approval, and she's spent most of her life in their good graces. Until she meets Maziar, and her world is turned upside down.
An instant electricity ignites between them, and it seems like fate when she discovers he's also Iranian. Just as her mind begins to soar with the possibilities, he shatters her hopes.
Sara is Muslim. Maziar is Jewish. Will faith tear them apart?
Despite centuries of unrest behind them, Sara and Maziar embark on a forbidden love affair, attempting to navigate through cultural and religious prejudices.
Deep within the trenches of their battle, Sara finds herself more empowered and careless than ever before, but will her love and newfound life be worth the ultimate cost—her family?
Reviews
"The author gives us frank observations and heartfelt longing that tug relentlessly at both the head and the emotions, so that the reader is torn between wanting the relationship to succeed against all odds and wanting to yell at the protagonist for being so naive." -Katie O'Sullivan
​(Click here to read the full review.)
"FORBIDDEN BY FAITH shows how family, love, and faith can collide, even in this modern age." - Romance Author, A. K. Leigh
A sneak peek at book 2 in the Forbidden Love Series.
Keep an eye out in 2019 for Leyla's story…
His eyes are trained on my face and I force myself to meet his gaze. This is the moment of truth, when I have to decide if this fight is worth what I stand to lose. I hold my breath as I wait for his answer.
"Leyla, I love you," he says.
My heart stops beating as his words settle in. He's looking at me, his blue eyes clear passageways into his heart. There's no doubt muddling his irises, no ulterior motives hiding in his pupils. Every fiber in my being knows he's telling the truth.
"I love you, too," I hear myself say. I suddenly feel like I'm in a dream, unsure if I'm about to wake up and find out that my life really isn't as amazing as it feels right now.
A smile stretches across his face at my admission. I return the gesture, scooting in closer. I place my hands on either side of his face, feel the muscles rise beneath my fingertips.
"I love you," I say, admitting it again to the both of us.
I lean in and kiss him. In that moment, I hand every piece of my heart over for his safe keeping. I lose myself in a world of love I've never known before.
And I never look back.
​
Powered by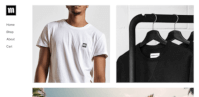 Create your own unique website with customizable templates.